Last updated on 22 Jun 2018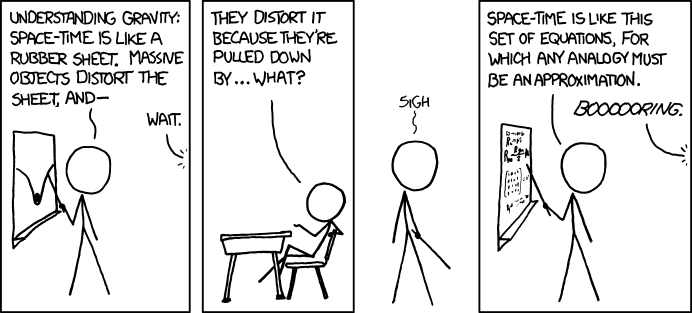 As usual, Randall Munroe nails it (although if I were playing with that metaphor, I'd say that density distorts the sheet). But I like metaphors, because unfortunately I have the mathematical ability and skills of a drunken frog. So I am going to use a metaphor as a metaphor, if you can follow me.
It is about specialisation in science. Scientists know various information to different degrees of sophistication and exactness. Often you will find scientists defending definitions like what a species is, when they have not done any work on species themselves, simply because they learned a particular definition as undergraduates, or because their advisor had and passed it onto them. The real knowledge about which they are competent to speak are the matters they do their research on, and which they have read, absorbed and critically thought about the literature of others in the subsubfield in which their doctorate or research grants are pursued.
However, there is a tradeoff between depth of knowledge and breadth of knowledge, in part because we all have limited time and mental resources. The deeper one knows a field the less generally one knows the wider context in which that field is situated. Somebody who did their work on a particular signal transduction pathway in murine cells as they develop cancer is not going to have a broad knowledge of, say, climate science. They are no better than any randomly chosen science undergraduate unless they have since specialised on climatology or a closely related field.
The defensiveness of scientists about undergraduate knowledge I call the "undergraduate effect". It is, if you like, an economic decision: do I spend time reading and thinking about these basic concepts, and take time away from my real work, or will I just state as fact what Professor Authority-figure told me in Specialisation 101? The answer is pretty obvious. Unfortunately some therefore think that their Pareto optimal is a universal truth. A few think that having done Specialisation 101 means they can criticise those specialists who have done real research on the field, as we are seeing with those who claim that climatology is wrong in its consensus that human industry is causing global warming.
Knowledge is a kind of conceptual density that distorts the conceptual continuum. We can think of the depth of one's knowledge as a literal depth if we think of knowledge as a gravity well (hence, the metaphor using a metaphor). Here is how I conceive it in my drunken frog manner:
The red curve represents the gravity well of a real expert, whose work at the bottom of that well is cutting edge research. [Actually, if we take the metaphor literally, the cutting edge is beneath that curve, but in terms of knowledge rather than current conjecture or active experimentation, etc., the curve represents the depth of what that person knows.] The blue curve represents somebody who learned a lot but did not go on to do research of a fundamental kind in that field. It is fairly obvious that a science, indeed all science, will have many such overlapping gravity wells, and that any single researcher, no matter how broad their knowledge, will not know much about a lot of science past undergraduate level. It is also obvious that someone who has not studied science past high school is not in general going to be competent to criticise those who do the research, even if they did a politics or economics degree.
The gravity well explains why many sensible and otherwise brilliant scientists tend to go off the rails. The number of Nobel laureates who write politically naive or simply objectionable things (for example, about eugenics, which is a repeated pattern) once they are recognised is too many to easily count. Once they move out of the field in which they did their work, they are no better off than any undergraduate at the end of an all-night bull session. This also indicates why consensus is needed in a scientific field. While Researcher A may know as much as is known about the signal transduction pathway, the state of the knowledge of the science is not the property of any single person or source. It is the property of a parliament of experts. And it becomes clear that there are levels of expertise.
This metaphor may help you, or it may not. What do I know? I'm no expert on these things…