Last updated on 22 Jun 2018
One of the recurring creationist attacks on evolution is, "If we evolved from monkeys, why are there still monkeys?" I responded to this once before but it is time to revisit it. Why? Because Marty Robbins has attacked the British media, itself always a noble thing to do, for constantly conflating apes and monkeys. In the course of it he posts this image: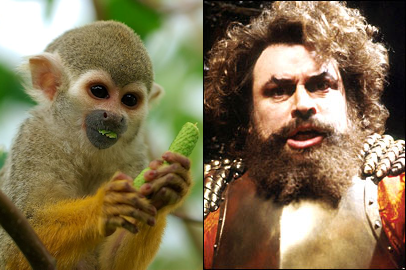 A monkey contrasted with an ape. Note the ape's larger body and brain, shoulder mobility, and tendency to bellow "I'm Brian Blessed" at high volume.
Now John Hawks, who I usually defer to in these matters (he is, after all, an echt anthropologist, while I am a parasitical philosopher) has taken exception to this, and it is a complaint I have heard from a number of systematists. "Ape", "monkey" and so on are not terms that have any biological meaning. Here is why: the following diagram indicates the technical names given to primates apart from "monkeys":
If you are referring to "humans" then you can either mean the species Homo sapiens, or the genus Homo without ambiguity. But any higher in the taxonomic tree and you have to include the two Pan species (the chimps), and so on. [Note: the ranks here are purely conventional and have no biological meaning in themselves. There could be an indefinite number of unknown branches between any two rank nodes, and probably are quite a few.] But "ape" in ordinary use means HominoideaHomininae (the African Great Apes) minus Homo. And "monkey" means all primates, Old and New World, minus Hominoidea. So, goes the argument, "ape" and "monkey" mean nothing useful. They are no more terms of biological relationship than "kind" is a rank in systematics like "species", etc.
A similar debate is hotly exchanged amongst paleontologists who discuss the origins of birds. Fewer issues generate as much ad hominem and ire. The BAD crowd claim that Birds Are Dinosaurs, while the BANDits hold that Birds Are Not Dinosaurs. The debate here, though, is rarely about whether or not "bird" means a feathered beaked thing, but whether or not birds arose from within the clade known as theropod dinosaurs that include T rex and other carnosaurs. However, BANDits often assert that the vernacular word "bird" has a meaning that excludes dinosaurs as an adjunct argument.
I'm going to call this the Ordinary Use argument. The idea here is that language has a technical use and an ordinary use and never the two shall meet in science. Systematists use new words to name the results of their taxonomic activities. Just as whales were once thought to be fishes, but systematists like Linnaeus recognised them as mammals, modern systematists have named natural groups that ordinary terms like "fish" do not capture. In phylogenetic terms, a name must be monophyletic, which is a way of saying that the group must have evolved just once. But an ordinary term like "fish" or "monkey" can have either many independent origins or classes of organisms ("fish" used to include waterfowl, crocodiles and whales) or can be a monophyletic group excluding some arbitrary part, like "monkey" excludes apes and humans. In neither case, according to a systematist, are these groups real (or, in their term, "natural").
The problem I have is not a point about monophyly. There are those who object to the cladistic ("phylogenetic") definition; they are often called "evolutionary systematists". That view is widely thought to have been abandoned by all but a few holdouts. I have problems with their view because what they count as significant is often subjective, but that's for another day. My point is instead, why should we take common or ordinary use as in any way important?
Wittgenstein famously wrote: "the meaning of a word is its use in the language." [Philosophical Investigations §43, see also §563], but he also said this was true of most, not all terms. In any case, where do language users get their uses as they learn their language? I learn what a crankshaft is from someone who knows how to fix and build engines. I do not learn it from a political pundit or my mother, if either of those two individuals do not know much about engines. Meanings do not sit on the landscape like trees, waiting for somebody to come along and pick their fruit. They are constructed by the community on the basis of the division of linguistic labour; we learn terms from experts. "Fish" was initially defined on the basis of the best natural philosophy of the day (in Latin, of course). Why can't we redefine folk taxonomic terms now? Even Linnaeus initially named whales as fishes, and in a later edition of the Systema Naturae he revised that. And now we do not call whales fishes (although it took a long time for the message to filter through, as shown by the excellent book Trying Leviathan).
"Dinosaur" is a case in point. The term was coined by an anatomist, Richard Owen, in 1842. That it later entered the public imagination and became a term of folk art in no way means we must now restrict the term (say, lowercased) to apatosaurs and carnosaurs. Instead, we must correct ordinary use, by pointing out the inclusion of birdlike dinosaurs such as Compsognathus and the recent feathered dinosaur discoveries, and on this basis we should revised "dinosaur" to include "bird" just as we excluded "bat" from "bird" on the basis of expert classifications by Linnaeus and others.
So why not say "Birds are dinosaurs"? They exist as a natural group within another natural group and the usual way to express this is to say they are members of that group. Likewise, apes are monkeys, and there is no way to avoid it. In a similar way, if "fish" has any meaning at all as a term that describes the world, we are fishes, as Neil Shubin pointed out in that wonderful book Your Inner Fish. So Brian Blessed is a monkey. He is also an ape. And he is also a human, and the English and other languages had better catch up. So in the end we might actually have to allow that the British media might not be wrong (on this point), even if they are accidentally right. As a beautifully written piece in the Times Higher Education Supplement by Eric Michael Johnson quotes, the Roman poet Ennius once wrote Simia quam similis turpissima bestia nobis, which translates as "How like us is that very ugly beast, the ape". That's because, when all is said and done, we are, and Brian Blessed in particular is, an ape. And a monkey, and a mammal. And a vertebrate, and a boney fish…